District heating systems are an alternative, safe and economical solution for heating buildings (residential, service, public and commercial) and for producing hot water in respect of the environment.
They are also called Heat networks and represent an opportunity for rational energy use and help to reduce the environmental impact and local pollution.
Due to its centralized production, district heating ensures significant economic savings and a drastic reduction of CO2 emissions.
Through a pipeline transport network capable of covering long distances, the energy/heat is distributed by the production plant for several kilometres. The plants may be fired with gas or biomass, in which case the atmospheric emissions are reduced even further.
A single plant for reducing the emissions together
With district heating, the production of heat is centralized and assigned to a single high-efficiency plant, instead of being subdivided between numerous sites (residential buildings, industrial plants, hospitals).
Compared to decentralized heat production, this system ensures a primary energy saving (fuel) and a reduction in the emission of pollutants into the atmosphere, normally concentrated out of town.
A city network produces up to 20% of CO2, 50% of NOx and 100% of SOx less than individual traditional boilers.
With a decentralized production, no noise, smell or smoke cloud reaches the point of use or residence. According to their geographical position, the plants may also enable a better use of the local energy sources, such as biomass, by taking advantage of the short supply chain.
Safe living
The lack of a boiler and fuel inside houses considerably reduces the risk of accidents and represents a saving in terms of space. The compact size of distribution systems makes it possible to use service spaces, such as carparks, cellars, etc.
District heating in 3 steps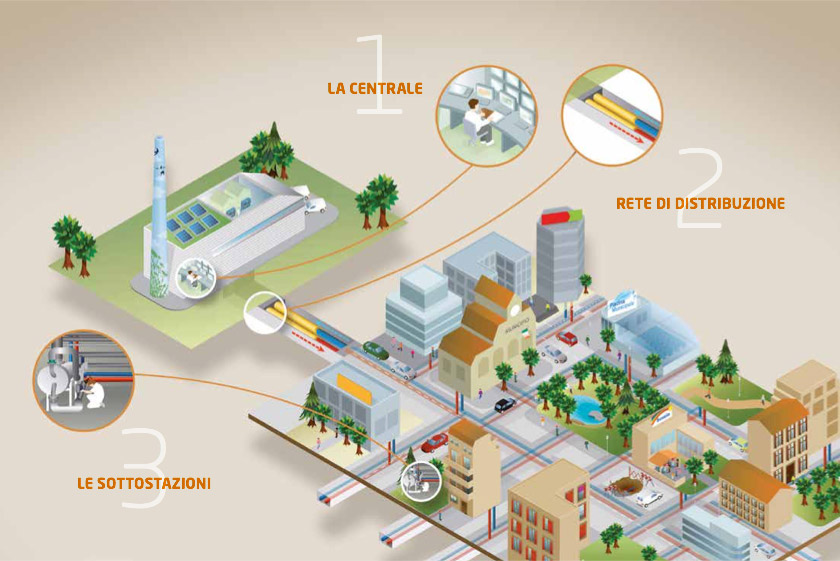 1 – The plant:
The heat is produced at high-technology plants operating 24 hours a day, designed and built with the aim of ensuring maximum thermal efficiency.
Multiple technologies and energy sources:
Conventional (gas)
Combined heat and power
Renewable (biomass, geothermic, solar, recovery from waste)
2 – Distribution network:
The fluid vector (hot water) is distributed to users through an underground pipeline, protected and insulated to prevent leaks. Having carried the heat to its destination, the fluid returns to the plant for reheating.
It is divided into:
The primary circuit that carries heat from the production plant to the substations in the buildings;
The secondary circuit – inside the buildings – which distributes the heat from the substations to the single living units, for example, via radiators.
3 – The substations:
These heat exchange stations are situated at the bottom of buildings and transfer heat from the primary circuit to the secondary circuit, converting it into household heating and hot water for sanitary appliances. Energy consumption is recorded and measured on the substations.
Energy (quantity and temperature) is supplied according to the user's needs (offices and schools are heated during the day, houses above all at night) and professional applications (hospitals, restaurants, launderettes, etc.).