Cogeneration plants
Sustainable development encourages new energy habits and cogeneration is one of the protagonists of our future.
Only 40-50% of the thermal energy produced from fossil fuels is subsequently converted into electricity, while the rest is dispersed in the environment.
With cogeneration, the unused heat can be recovered to create new energy for industrial and private use.
ENGIE Italia builds and operates cogeneration plants for the joint production of heat and electricity and trigeneration plants for the production of electricity, heat and cold, with major energy savings. Its experts accompany the customer in every phase of the life of the systems, from design to installation and operation.
Main types of plant:
ENGIE Italia's cogeneration is performed using endothermic motors, gas or steam turbines.
Endothermic (internal combustion) motors. As well as producing electricity, they have an alternator in line with the motor, which enables them to recover the heat contained in the exhaust fumes and cooling fluids of the motors, which use natural gas or other types of fuel.
Steam turbines. Part of the heat present in the steam is drawn and used for purposes other than the generation of electricity (e.g. district heating, industry, etc.).
Gas turbines. In addition to the electricity produced by the alternator coaxial to the engine, heat is recovered from the hot fumes using special heat exchangers.
Combined cycles. The heat of the hot fumes flowing out of a gas turbine feeds a heat recovery boiler that produces steam, which, in turn, feeds a traditional turbine. Both turbines produce electricity through their alternators, but part of the heat present in the steam is used for purposes different from the generation of electricity.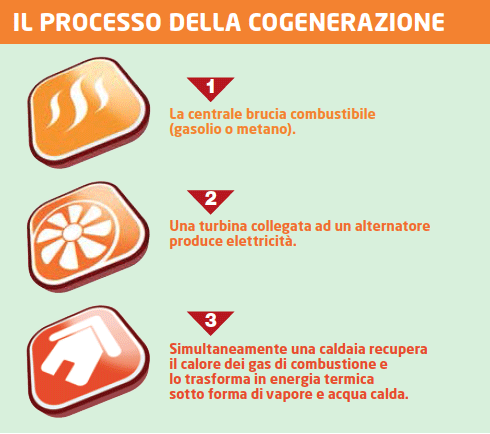 Biomass cogeneration
ENGIE Italia uses its expertise in the generation of electricity from biomass, which is used as fuel in the cogeneration plants, combined with district heating networks. Link to the "RENEWABLE ENERGY SOURCES" page for more information about cogeneration.
Residential and industrial heating systems
ENGIE Italia is specialized in the design and construction of heating systems and subsequently in the operation, maintenance and optimization of their functioning in time.
Every plant is tailored to the customer's needs, constructed with method and certified.
Condensing boilers/ generators;
Biomass-fired boilers (wood chips /pellets);
heat pumps;
ENGIE provides support for the systems and offers a Responsible third party service.
It performs the programmed daily or monthly operation, sharing the periodic activities with the customer and ensuring its availability 7 days a week.
The ENGIE technicians are specialized in the maintenance of generators and possess the requirements for the operation, maintenance and installation of heating systems both for residential and for industrial uses.